Pioneer Series > Honda ATV & Side-by-Side Canada Main content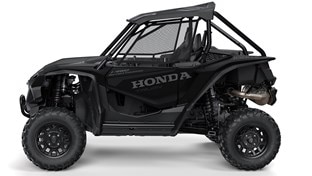 Engine & Drivetrain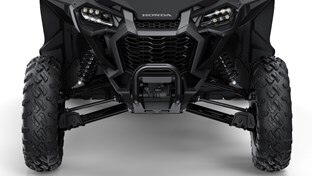 Chassis & Suspension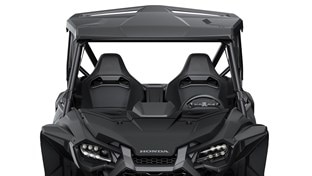 Additional Features
Key Features Modal
Use of this product must comply with all rules and regulations applicable to the region in which the product is used. Please consult your local dealer for more information.

Specifications, features, illustrations and equipment shown are believed to be correct – however, accuracy cannot be guaranteed. Honda Canada Inc. reserves the right to make changes at any time, without notice or obligation, in colours, specifications, accessories, materials and models. Some vehicles are shown with optional equipment. Some vehicles shown are U.S. or European models. Canadian specifications and models may vary.
Engine & Drivetrain
Engine Type
Liquid-cooled longitudinally mounted naturally-aspirated parallel-twin cylinder
Bore & Stroke
92 mm x 75.1 mm
Valve Train
Unicam, OHC, 4 valves
Fuel Delivery
PGM-FI electronic fuel injection with 46 mm throttle body
Transmission
Six-speed automatic Dual-Clutch Transmission (DCT) with high/low subtransmission. Two drive modes with 2WD and i-4WD. Three shift modes (standard, sport, manual w/ paddle shifters).
Power Steering
Electric Power Steering with speed and force-sensing inputs
Final Drive
Front /Rear Shaft
Chassis & Suspension
Front Suspension
Independent double A-arms with Fox Podium 2.0 QS3 (Quick Switch – 3 position) hydraulic shocks; 370 mm (14.6 in.) travel
Rear Suspension
3-Link trailing arm with Fox Podium 2.0 QS3 (Quick Switch – 3 position) hydraulic shocks and sway bar; 384 mm (15.1 in.) travel
Additional Information
Tires
Front: 28 x 9 – 15
Rear: 28 x 11 - 15
Brakes
Front: Dual 250 mm
Rear: Dual 250 mm
EBD (Electronic Brakeforce Distribution)
Cargo Capacity
136 kg (300 lb.)
Length
3,143 mm (123.7 in.)
Height
1,913 mm (75.3 in.)
Ground Clearance
323 mm (12.7 in.)
Wheelbase
2,226 mm (87.6 in.)
Curb Weight
680 kg (1,499 lb.)
Fuel Capacity
27.5 litres (4.3 litre reserve)
Warranty
1 Year (unlimited mileage)
Warranty

Honda has established a brand synonymous with reliability. To learn more about Honda's Distributor warranty or about increased peace-of-mind protection with Honda Plus, visit the Honda Warranty section
Side-by-sides
Unlimited mileage and freely transferable. Extended coverage available with Honda Plus.
12 Months of Extended Warranty MSRP
24 Months of Extended Warranty MSRP
36 Months of Extended Warranty MSRP
2015
FOREMAN 500
$X xxx
savings