The Pioneer Accessory Lineup
An extensive lineup of Honda Genuine and Honda Signature accessories have been designed to further enhance your Pioneer side-by-side experience. A perfect fit every time, you can add accessories individually or simply choose a package that best suits your needs. The Pioneer family has never been so versatile with customization options uniquely tailored to the Pioneer 700 lineup and, the newest addition, the Pioneer 500.

To view the full lineup of accessories visit the "find accessories" tab and start customizing your new Pioneer today. Or, visit the "find a dealer" tool to locate one of the select Honda Pioneer dealers in your area and explore your options with a knowledgeable Honda representative.
Check out the extensive accessory lineup and accessory packages!
Honda Genuine and Signature Accessories
Customization is about making a statement. It's a personal declaration of freedom. The freedom to go wherever your SxS will take you, in a style that is all your own. Let Honda Genuine Accessories and Honda Signature Accessories help you define that style.

Newly added to our accessory lineup, Honda Signature Accessories combines expertise with experience of the top North American accessory suppliers. The result is unique, innovative accessories designed and manufactured exclusively for Honda powersport products. Honda strongly recommends that you use only Honda Genuine and Signature accessories that have been specifically designed and tested for your SxS.
Since Honda cannot test all other accessories, you must be personally responsible for proper selection, installation and use of non-Honda accessories, as they may void your warranty under certain conditions.
Check with your Honda Dealer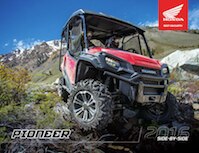 Pioneer 2016 Brochure
Learn more about the all-new Pioneers. Download the brochure here.
Accessory Catalogue
Download the catalogue here