Introducing the 2016 ATV Accessory Lineup
Enhance your ATV experience with the all-new 2016 lineup of Honda Genuine Accessories and Honda Signature Accessories. To view the full lineup, visit the 'find accessories' tab to discover the many ways you can customize your ATV to fit your lifestyle. You are also encouraged to view the 'find apparel and gear' tab to get all your Honda branded apparel.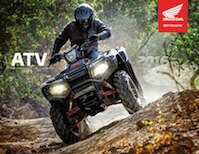 2016 ATV Brochure
Learn more about the all-new 2016 ATVs. Download the brochure here.
Accessory Catalogue
Download the catalogue here
Why choose genuine Honda accessories
Customization is about making a statement. It's a personal declaration of freedom. Freedom to hit the road in a style that is all your own. Let genuine Honda accessories help you define that style. Whether you are fond of chrome or leather, like to be noticed or prefer understatement, the possibilities are endless. It's time to turn your imagination into reality.
We strongly recommend that you use only genuine Honda accessories that have been specifically designed and tested for your ATV. Because Honda cannot test all other accessories, you must be personally responsible for proper selection, installation, and use of non-Honda accessories, as they may void your warranty under certain conditions. Check with your Honda dealer for assistance.
Honda is synonymous with quality and performance. Whether you own a vehicle, motorcycle, ATV, or a product from our power equipment or marine line-ups, chances are you bought the Honda based on our reputation. Genuine Honda accessories are no different. In fact, they are the only accessories that have been approved by the engineers who originally designed your Honda. This ensures that not only will they look great but they'll fit right too. Chrome, leather, windshields… we've got what you're looking for. Let your imagination run wild.
News
The all new genuine Honda ATV front and rear cargo boxes.
We are pleased to announce the addition of 2 new exciting genuine Honda ATV accessories to our line-up. ATV cargo boxes are a basic necessity for the true ATV outdoorsman and now Honda engineers have matched their design mastery with Honda fit and finish in order to produce these front and rear ATV cargo boxes to fit TRX420/500/680 models. Increase cargo carrying versatility with the new genuine Honda front and rear cargo boxes. For more details use the accessory selection tool and select your ATV model.